This site has moved to http://md-connection.zzl.org. You should be redirected there within 10 seconds. If you are not redirected automatically, please click here. Please update your bookmarks.
Living in Chisinau
This page is dedicated to bringing some information to Chisinau guests about living in Chisinau. I will try to tell what to look out for when living in Chisinau, giving some advice along the way. Please e-mail me or leave an entry in my guestbook to solicit more information, I will gladly put it up on my website.
Last revision date: 09 July 2007.
---

Emergency Phone Numbers
As this is vital in a foreign country, these will come first. So, here they are:
901 - Fire Department
902 - Police
903 - Ambulance
904 - Gas Leak Response
As you can see, there isn't a single emergency service, like 911 in the USA or 999 in the UK. Eventually, there will be 112, but probably not soon.
There are alternative medical emergency services - private ambulances. One of them can be reached at 1469. I think there's another one at 1413, and one at 1403. Obviously, their visit and other services will not be free. Although I haven't used an ambulance, I have seen how the 903 and the private ones drive around the city. It seems the state vehicles don't have the sirene, and they are slow at intersections and sometimes stop to wait for the green light. The private ones look much faster, so make your own conclusions.
There is also the 'rescue' service at 911, however, they couldn't come to get my cat off a tree a couple years ago, because... they didn't have a ladder!!! No comment!
Groceries/food

Unlike most developed capitals, Chisinau lacks department stores and supermarkets. There's only one decent grocery supermarket chain - the Green Hills brand - which includes just a handful stores around the city. Please keep in mind that not all of the Green Hills shops (if any) accept bank cards. Another nice place to shop for food is the "Nr. 1" shop in the "Sun City" mall.
I would advise you to NEVER go to a "Fidesco" store. I have had a lot of unpleasant experiences there. Their staff are poorly trained, the stores are underequipped and generally, their stores will pointlessly waste a lot of your time. And when I talked to the manager of a Fidesco store, she told me the staff was bad and could not be trained any better.

Metro Cash&Carry network is present in Chisinau, in October 2006 they will be opening their second store. It has become very popular with people and small businesses because of lower prices. However you need a membership card to be able to make purchases. I am sure you will find someone with membership.
There are loads of other shops that sell food, but they would be very small and would not offer you the range of products as the bigger stores would, and you may end up going through several such shops to get all you wanted. Apparently a foreign supermarket chain is building their stores in Chisinau right now, so we should see more decent stores soon.
The best place to shop for vegetables or fruits is a market. Each part of the city has a few, so it shouldn't be a problem to go there. A market would normally give you much lower prices for such products. However, I would advise you to shop for everything else in shops, especially for meat, fish, poultry and milk products. Another thing to remember about markets in the winter is the chance that vegetables and fruits you buy may be frozen by the cold weather. This may not be obvious at the time of purchase, but once such a product thaws at home, it may be unedible. So you might consider shopping for fruits and vegetables at supermarkets or sheltered markets in winter.
Non Food Items
It is rather sad to say, but electronics and clothes (I mean good quality) in Moldova cost more than in Western countries, especially when compared with USA. For electronics, the explanation is simple: before these items arrive here, they change many hands through multiple distributors and redistributors. Thus, much of electronics in Moldova comes from Russia, not from the country of origin. Plus, Moldovan market is small, so bulk-buying discounts are small for Moldovan retailers. For clothes, the situation is slightly different. This market is split into two segments: cheap low quality Turkish/Polish/Chinese products, and expensive fashion outlets with "exclusive" prices which remain sky-high even after 50-70% rebates (everyone here thinks that they just write a higher price and cross it out to give the appearance of a discount). Thus it's either crap or a rip-off. Moldova has a number of sewing factories which are owned by foreign companies (many are Italian), but they work exclusively for export. I am sure they put Versace and Armani tags on many items produced in Moldova and no one will ever know that these items came from Moldova. At the same time, Moldovans don't have any access to high quality accessibly priced items. I suggest that you bring your own clothes and computer stuff with you if you have the possibility. Or, if you have someone in Moldova, you can always bring some of that stuff for them - it will be cheaper for them to have it brought from the US than from a local store.
If you're after some home appliances and/or audio/video equipment, then you have a wide choice of shops. There are micro-chains like Alina Electronic (a lot of stuff, but relatively high prices), Maximum (a Samsung dealer with other brands in store), Bomba (wide array of stuff but just several shops), Xenon (never shopped there); plus Technomir (selling, among others, cheap but decent Vitek brand), Elephant and others.
For computers, you have a lot of shops. There's Riscom, but their staff are very slow and I have heard their customer service in general is not very good. Sigmar (ex-Sigma) is OK, but relatively high prices. The customer service is decent though and they are official dealers of Kaspersky Antivirus software. There is also Neuron chain, which claims to be the largest in the country.
Shopping for clothes is the least favourite part for me. There are so-called 'shopping centres', such as Elat, Grand Hall, recently opened Jumbo, Sun City, Soyuz and others, with small 'boutiques'. These sell a lot of crap: same stuff, usually following the 'fashion', at indecently high prices. Same goes for footwear. In central Chisinau, there is a Mango store, Melange, Hugo Boss, Mexx, Benetton, and I think there's a Tommy Hilfiger one too, but they are very expensive. Generally, the Stefan cel Mare Boulevard is much like Oxford Street in London in terms of shopping - lots of individual shops with ridiculous prices. I haven't seen a single decent clothes shop, which would have me, or even my wife Sasha, spend more than 3-5 minutes there to look through the whole assortment. Terra Nova may be an exception (Stefan cel Mare bd. crossin Ismail street), but they only sell women's clothes, however prices and variety are much better than at peers' shops. I personally preferred shopping in London, but flying there costs too much :-).
Paying for purchases
Obviously, cash is the predominant mode of payment. The only other alternative are bank cards (Visa and MasterCard/Maestro only). However, places accepting cards are relatively scarce and staff are often not skilled in processing card payments (they can ask for both the PIN number and for your signature on the receipt, for example). So, if you are short of Moldovan cash and want to pay with your credit/debit card, check if this is possible first. Also, at some restaurants which accept cards, if you stay late and part of the staff leave, you better warn that you want to pay with your card, as they may shut down the POS terminal and will not be able to process your card. This happened once to me so be warned. Cheques are not common so I don't think your cheque book will help.
ATMs are quite scarce by Western standards, but this is more noticeable for Moldovans than it would be for a foreigner. This is because each bank has only a few ATMs, but there are quite a few such banks. Thus, while I will have to look for my bank's ATM to save on fees, you will be able to use just any machine. When you need an ATM look out for banners/signs with "BANCOMAT" on them. Sometimes ATM booths will look more like phone booths (and we don't have phone booths) :)
When shopping for clothes or something more or less expensive in the city markets (especially the Calea Basarabiei market), it is sometimes possible to pay in USD, and I am sure in Euros too. Generally, you can exchange currency almost anywhere: at any bank office or at an exchange office. Keep in mind that some exchange offices charge commission (2%), banks usually don't.
You can also bring Traveller's Cheques with you and cash them in local banks. If you need to send or receive money to/from abroad, there are plenty of money transfer services, from Western Union to MoneyGram, Anelik, Migom, Unistream and others. Western Union is present in almost every bank.
Eating Out
I don't go out too much, so my advice here will be pretty scarce for now. Generally, if you come from the west, where you have some sort of a satisfactory income, then you will most probably be able to afford most restaurants in Chisinau. $100 will be enough to feed several persons (including the tip to the waiter).
If you are after a quick meal, there are plenty of fast food restaurants. The one that stands out is the Andy's Pizza chain, where you can order pizzas, pasta, salads, drinks etc. The prices are acceptable - MDL 35 for a pizza. Other good pizza places include Pan Pizza in Botanica, Pan Avenue in Riscani, A'Pizza on Stefan cel Mare Boulevard, but they are individual places, whereas Andy's has about a dozen places across the city. There is also MacDonald's, but come on, who eats at MacDonalds? Especially, when it is so expensive by Moldovan standards
In terms of higher class restaurants, Pani-Pit near the Licurici Theatre is a good place. It has a non-smokers' area, but the live music in the evening is played in the smoking hall. This place is very peaceful (unless you're atying close to the live band), has a unique style, and you can stay there for as long as you like. The menu is available in English, so you should be OK choosing your meal there. They also accept bank cards, but you need to tell them in advance, because the card reader is disconnected around 11 pm and you'll be stuck after that. In Riscani, there's Crama Basarabia Restaruant. It follows the traditional Moldovan style, and has an exhibition of village antiques.
Transportation
Within the city, you generally have four options to get from point A to point B:
Most obviously, by foot. However, this may not be very pleasant when your path goes along a road, as the exhaust fumes are very heavy in Chisinau. Similarly, in (or after) rainy weather, of after a pipe leak, there may be too much mud in the streets.
By taxi. Typically, a ride within the city should cost you between 25 and 40 lei, provided that you use an official cab and not a rogue one. But do bargain before you get in, so that you are not ripped off, 50 MDL is max amount for a non-stop ride through the city. There are many taxi services, their phone numbers are 4-digit ones, starting with 14... For example, 1400, 1406, 1407, 1490, 1440, 1410 etc. You can guess-dial a cab by dialling 14 followed by any other two digits. Just remember: private ambulances are also dialled from this number range, these are 1403, 1413 and 1469, so don't dial those unless you have a medical emergency. Similarly, 1488 is a funeral service. Only several services have their cars marked as taxis. The procedure of calling the taxi is as follows. (a) From a fixed phone: you dial their number and place an order. They ask your phone number and address and where you're going. Then they call you back saying what car and approximately when will come to pick you up. When the car finally comes, they usually call again saying that the car has arrived. (b) From a mobile phone: if you call their mobile number (if they have one), the procedure is the same as described above. Otherwise, after placing the order, you will have to cal them back to find out the details.
By bus/trolleybus. These, obviously, follow some routes. Buses are few, they cost MDL 2. Trolleybuses cover about 29 routes and cost MDL 1 per person per ride, although if you have a big piece of luggage, you will be required to buy an additional ticket. The tickets in both buses and trolleybuses are purchased from the ticket-person within the vehicle. Such person usually wears a coloured vest and goes from one end of the vehicle to the other asking people to pay. The vests are of three colours (for each of the three trolleybus depots): green, maroon and blue. It is generally in your interest to pay, because there are control squads browsing through trolleybuses/buses checking that everyone has a ticket or a legitimate permit not to pay. If you are caught without a ticket, you will be required to step off the bus and pay a fine (5 lei or something).
Maxi-taxi - minicabs following set routes. These have a much wider range of routes and cost MDL 3 per ride. They are usually much faster than trolleybuses and can stop virtually anywhere, you can stop one just like a cab - by waving your hand. However, please be warned: these often get overcrowded at peak times and thus get stuffy, as few have any opening windows, and some don't even have roof-hatches for fresh air. In the summer, they are very hard to use.
Please keep in mind that pickpockets often operate in buses/trolleybuses and in maxi-taxis, so keep your wallet tucked away and keep an eye on your bags, backpacks, purses etc. Often, thieves cut bags open to get to the wallet or a mobile phone, so take care.
A few words on roads and streets. Many (especially those away from the city centre) are in a poor shape, with tarmac deteriorated in many places, causing puddles and mud to appear with every rain. If you have to drive through such places, do it slowly, not taking any chances. Street lighting is also in a very short supply, so darkness combined with poor roads can cause much trouble when you have to walk.
Communications
Payphones and Fixed Phones
Currently, there's only one provider of fixed telephony, the state-owned giant Moldtelecom. In the streets (especially at bus stops), you can find payphones. These payphones accept only prepaid phone-cards, but normally you can find a person next to a payphone, who would rent you a phone-card: 1 minute normally costs between MDL 1-2.
Mobile Telephony
As of 2007, there are three mobile phone operators: Orange (GSM, formerly known as Voxtel), Moldcell (GSM) and Unite (CDMA2000, a Moldtelecom company), with a fourth mobile operator in the making. I don't know much about Unite's services: apperatnyl they offer good service prices but lousy phones (before Unite's coming in early 2007, there were no CDMA operators and the market for CDMA phones had not developed). Orange and Moldcell sell "Pay As You Go"-type cards (called Tempo for Orange and Alocard for Moldcell). Both also have subscription plans. A Moldcell Alocard card will usually be valid for 3 months. Any unused minutes will be carried over to a new card. I don't know about Orange's tariffs, but I know that on their 'Pay As You Go' "Tempo" service, you get twice as many minutes of talk time within Orange's network, than to other networks.
Dialling Quick Guide
As of the end of 2003, Moldovan telephone network was compiant with the European standards, meaning that:
To dial a foreign number out of Moldova, you first need to dial 00 (zero-zero), followed by the country code.
To dial an interurban number, you need to dial 0 (zero) followed by the region/city code. These codes can be found at Moldtelecom's website
Mobile numbers also start with a zero. If the number starts with 069, then it's Orange's number; if with 079, then it's Moldcell's number, and Unite's numbers start with 067.
Tone dialling is possible, enabling the use of prepaid long-distance calling cards. Many other functions, attributable to digital phone stations, are also available from most of Chisinau phones (villages are still falling behind though).
0-800 numbers are free for the caller, numbers starting with 09 are probably premium-rate, although I am not sure, so don't take my word for it.
Phone number structure (by destination):
Chisinau

Chisinau (when dialling from Chisinau): 6-digit number in the form

XX-YY-YY

, where XX is the Phone Station prefix, and YY-YY are the other four digits (any);
Chisinau (from other Moldovan regions):

0-22-XX-YY-YY

, where XX-YY-YY is the same as above;
Chisinau (from abroad):

+373-22-XX-YY-YY

.

Mobile networks

Voxtel:

0-69X-YYYYY

from Moldova and

+373-69X-YYYYY

from elsewhere in the world.
Moldcell:

0-79X-YYYYY

from Moldova and

+373-79X-YYYYY

from elsewhere in the world.
Unite:

0-67X-YYYYY

from Moldova and

+373-67X-YYYYY

from elsewhere in the world.

Other destinations within Moldova

From other places:

0-XXX-YYYYY

, where XXX is the region code, starting with 2 (e.g. 231 for Balti).
From within the same locality: depending on the size of the town/village, either a 5-digit local number (for towns) or a 3-digit number (for villages).
From abroad:

+373-XXX-YYYYY

.
Here's a reference table to help you figure out this more clearly. Say, your friend lives in Chisinau and gave you his phone numbers. His phone number in Chisinau is 44-44-44. He also has a cell phone number 0796-55-555. And he has a country house with phone number 0-298-66-666. See below how to dial these numbers from different locations.
| | | | |
| --- | --- | --- | --- |
| Calling from | Calling Chisinau | Calling Mobile | Calling Country house |
| From Chisinau | 44-44-44 | 0796-55-555 | 0298-66-666 |
| From mobile | 022-44-44-44 | 0796-55-555 | 0298-66-666 |
| From country house | 022-44-44-44 | 0796-55-555 | 0298-66-666 |
| From abroad | +373-22-44-44-44 | +373-796-55-555 | +373-298-66-666 |
Internet
The Internet market has diversified over the past couple of years, and most of its typical forms are available: dial-up, ADSL, cable. For dial-up, you can buy a prepaid card from one of the many magazine booths, or you can use Moldtelecom's 1900 phone number with the username 'internet' and password 'total'. The tariff is just MDL 0.084 per minute (including 20% tax), which is below the voice call rate. All dial-up numbers must begin with 19, followed by two more digits. Generally, all information services, such as dial-up, IP telephony etc. must use the designated 19XX number group (if dialling not from Chisinau, then dial a zero before the number: 0-19XX), so any other number would probably mean an illegal service. Also, Moldtelecom's 1900 service, when dialled not from Chisinau using the 0 prefix (i.e. 0-1900), costs 0.42 lei per minute including tax, so I assume other dial-up services may be more expensive outside Chisinau, unless they are local.
Broadband Internet options have expanded during the past few years. It is now possible to have a cable or ADSL subscribtion for about $20 per month, which will give you speed of at least 128 kbps with unlimited traffic, or 2MBps with traffic limited to 5-10 GB per month (Moldovan traffic is usually free, so bittorrent traffic would not be included). Besides, various promotional offers are becoming commonplace, so be sure to check out all ISPs for special deals before committing yourself to any one of them.
Moldtelecom offers very competitive internet packages, and sometimes (usually in April-May) they have promotional offers with free connection (i.e. no connection fee). Other ISPs worth checking out are Telemedia and Starnet.
Entertainment
In my personal opinion, there is not much in terms of entertainment in Chisinau. One caveat though - I don't go to night clubs and discos, so I am biased.
Night clubs
I have never been in a night club and I am not planning to visit one. But I have heard from various sources (mainly articles written by western visitors), that SoHo and Military Pub are interesting places to see.
Automotive
In May, there is a car event organised in Chisinau, with drag, drift and other cool things enthusiasts can do with their cars. I think the event is called "Tuning". It includes drag racing between cars, bikes, and trucks. There are also some racing events just outside Chisinau on a mud track. I happend to be walking about 0.5-1 km away from that place in 2005 and used my super-zoom camera to see the details.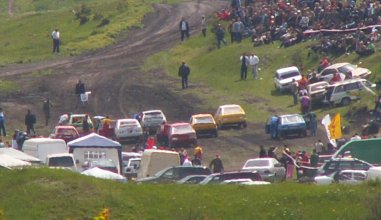 Since 2005, there is an annual rally called "Cupa Independentei" (i.e. The Cup of Independence). It is a two day cross-country rally dedicated to the Independence day and takes place in the last days of August (around 25-28 August).
Paintball
Paintball is present and quite active in Chisinau. In 2005, I played once (after that I was broke for some time so couldn't afford it) and really enjoyed it. You have to keep in mind though, that safety is only verbal in Chisinau, i.e. games may take place on abandoned construction sites (like the one I took part in), but you will not be insured etc. You will just be told to be careful. You will be provided with masks/helmets, robes, and paintball gun, so you don't need to have your own. But check in advance anyway.
The Wine Festival
This is the initiative of our president. The event takes place in October and apparently is growing bigger and bigger each year. Also, as far as I know, visas are free during that period, so you are welcome to come and taste a lot of wines.
Wine tours
Travel websites have a lot about those, so I won't write about it. Especially since I have never been on one. Be sure to check out the wineries in Cricova and in Milestii Mici.
Opera
Apparently, Moldovan Opera is very good by international standards in what concerns talent. I saw Turandot in London's Albert Hall, performed by the Chisinau Opera and the Hall was full. There was just one performance. Chisinau Opera House is not as great as Albert Hall in terms of comfort and acoustics, but the voices are great. Besides, the ticket won't cost you more than several dollars (or euros).