This site has moved to http://md-connection.zzl.org. You should be redirected there within 10 seconds. If you are not redirected automatically, please click here. Please update your bookmarks.
The Coat of Arms of Moldova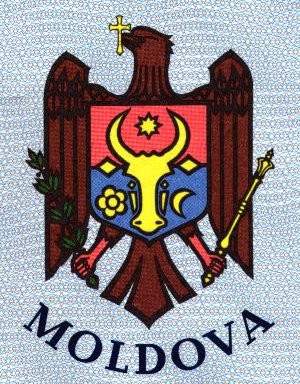 This is the official Coat of Arms of the Republic of Moldova. It is identical to the Romanian Coat of Arms, but the shield features symbols specific to this country, whereas the Romanian one has symbols of all of the parts of Romania. The meaning of the Moldovan Coat of Arms' components can be defined as follows:
The Eagle

symbolises freedom;

The Cross

is a symbol of Christianity, the religion of the country's people;

The Olive Branch

is a symbol of peace, it denotes the peacefulness of the nation;

The Buffalo Head

is the symbol of Moldova, according to the legend;

The Rose

its five petals symbolise the five parts of Romania, of which Moldova used to be a part;

The Sceptre

is a symbol of sovereignty;

The Moon

(have to find out this one);

The Star

(have to find out this one too).
P.S. If anybody knows a more exact meaning of the coat of arms'elements, please let me know as I would like to have preciseinformation on this page.