This site has moved to http://md-connection.zzl.org. You should be redirected there within 10 seconds. If you are not redirected automatically, please click here. Please update your bookmarks.
A Little Bit of Biography

Hi. My name is Vitalie Eremia. I was born on June 23, 1981, in Izhevsk, a city in the middle of Russia, home of Kalashnikov who invented the famous weapon. In 1990, my family moved to Moldova (still called Moldavia then) - where my parents had been born and grew up. One year later the Soviet Union collapsed and the real fun began.
Well, not quite then. It started in 1993, when my parents insisted that I transfer to the "School #53" here in Chisinau. This was the place where I found my best friends Andrei Cervoneascii and Sasha Yarova and the love of my life Sasha.
Next thing I remember I was involved in the Soros Foundation Debate Program (in English), and even got a Top 10 Speaker Award in one of the national competitions (the prize was an audio cassette). Being involved in a Soros Foundation project I couldn't help taking part in a scholarship contest, which I won, among a number of other people including Andrei, in 1996. The result was two years as a Sixth Former in England (that's high school if you don't know what a Sixth form is in UK), plus loads of new friends. Well, England proved to be a cool place, but I had to leave (I thought, for good) in 1999 after passing my A levels. And that was in spite of the fact that I had been offered a place at the London School Of Economics, and had passed five A-levels with four A's and just one B.
Having come home, I couldn't enroll in a Moldovan university with my A-levels. Why? Because Moldovan education is the best in the world? No. But it was because our parliament didn't adopt the convention about international educational systems. So I only could get into some dodgy 1-year old college, which proved to be a sham, to say the least. Anyway, I sat the Bacalaureat exams in the summer of 2000, necessary for universities here in Moldova and enrolled into the Academy of Economics (sounds good, eh? :) ), so the college nightmare was over.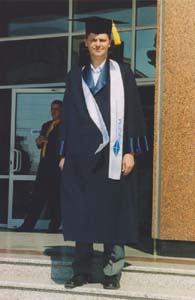 In August 2001 I got a part-time job at a microfinance institution in Chisinau, which gradually evolved into a full-time job with part-time Academy attendance. I quit this job in the spring 2004 because I had a better offer from an American telecom company. In the summer of 2004 I graduated the Academy with good grades and just a few weeks later my new American employer offered me a temporary job in London for a few months. By that time I had been planning to get married in September, but I had to leave for UK before that, so I got married ahead of schedule on July 24, so that I could take Sasha with me as a legal spouse. The wedding was a little bit rushed, small and very private.
The London experience was fun, but the company I was working for started to fall apart (in my opinion). So having come back to Moldova, I was in a search again, trying to find an occupation that will bring both spiritual satisfaction and enough money to keep my family happy. The job didn't keep me waiting for too long and on March 21st, 2005 I was already working for an American equity research firm, writing reports on American stocks.
Currently I am engaged in writing reports for a number of clients. I do equity research, financial modelling, market overviews, recently did a bank business plan review, and are also trying our skills at business brokerage. In June 2006 I passed the CFA level 1 exam; two more successful exams and I will have the CFA designation, so wish me luck with that!
If you are in financial/equity research/investment banking business, you can check out my professional profile - maybe we can work together (I offer equity research outsourcing).